With deeper waters, longer distances and harsh environments, oil and gas production face more challenges including hydrate management, slugging, wax deposition, scale build-up, asphaltene precipitation, erosion and gel formation.
FNG Energy Solution is recognised as an industry leader in flow assurance engineering, modeling and process optimization. Our specialist team supports customers with innovative technology, robust analytics and software systems which are tried and tested in the field.
Our expertise spans all project stages both onshore and offshore. We understand and mitigate key flow assurance issues through our technical consulting services, from design to operation. We are focused on improving efficiency, safety and cost.
By using a systems engineering approach, FNG Energy Solution addresses the challenges from modeling to development of operational strategies to optimize flow assurance engineering in the production system. Flow Assurance Modeling is a key aspect of engineering design work, especially in deep-water oil and gas developments. Several issues impact the flow of oil and gas from the sandface (near wellbore area) to the platform and through the export systems including slugging, hydrate management and formation, scale formation, wax buildup, corrosion, erosion, asphaltene deposition and gel formation.
At FNG Energy Solution, Flow Assurance engineering and modeling is designed to assist in project decision making, especially in the following areas:
Production and Reservoir Engineering
Fluid Characterization (Oil, Gas, and Water), Production Profiles, Reservoir Pressure Behavior, Well Completions Requirements, Field Architecture Selection and Well Configurations and Optimization
Chemical Systems
Chemical Injection Systems, Chemical Qualifications and Screening, and Umbilical Requirements
Materials Engineering
Materials Selection and Requirements
Production Chemistry
Fluid Compatibilities, Emulsion Treatments, Foaming Control and Produced Water Treatment
Integrity Assurance
Corrosion Modeling, Erosion Modeling, Scale Modeling, and Souring Modeling
Process Design
Topsides Requirements based on Transient Flow Modeling and Production Chemistry
Operations and Procedure Development
Operating Guidelines and Specialized Procedures based on Steady‐state & Transient Flow Modeling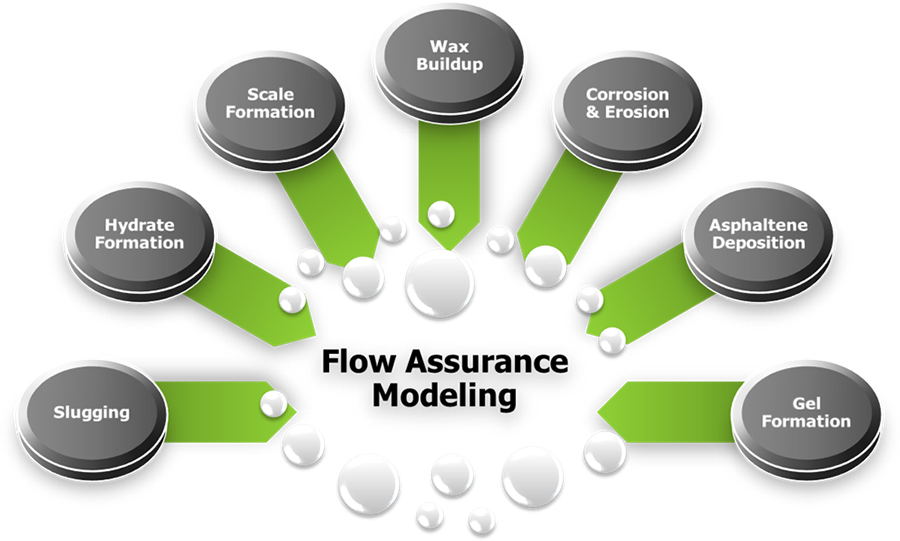 Flow Assurance engineering from modeling to operations requires seasoned professionals that understand the subject, the needs of the clients and the project challenges to optimally design operational strategies with the use of the state of the art modeling tools such as OLGA® Modeling Multiphase flow transient simulator.
FNG Energy Solution Flow Assurance Engineers focus on:
Multiphase Flow ModelingSteady-State and Transient Modeling of Operations
– Line Sizing and Thermohydraulics Studies
– Shut-In, Start-Up, Restart, Ramp-Up/Down, Gas Lift
– Water Hammer and Pigging Studies
Rigorous Choke Modeling
Integrating Production Chemistry to Flow Assurance Related Issues
Design Operational Guidelines and Procedures
Flow Assurance Innovation
We provide ground-breaking technology for customers by remaining ahead of the innovation curve; from leading research, joint industry projects, writing industry guidelines, and using data analytics to enhance our offering.
We offer solutions in the following areas:
Transient multiphase flow.
Computational Fluid Dynamics (CFD)
Production chemistry and fluid phase thermodynamics
Integrated production modelling (IPM) and field development planning
Process dynamics and process control – topsides, subsea and plants
Online monitoring systems and engineering simulators
Operator Training Systems (OTS) – fit-for-purpose fidelity – VP Link™ and ProDyn
Asset management and optimisation systems
Operations support, troubleshooting, site survey and assessment
Enhanced oil recovery (including steam-assisted/SAGD, chemical/polymer flooding, CO2 or water-alternating-gas/WAG processes)
Carbon Capture & Storage (CCS), unconventional, shale and methane hydrate, arctic, heavy oil and HPHT resources
Production process flow management, analytics and debottlenecking
Well performance assessment, production meter balancing and reconciliation
Owner's engineer, third-party design audit/verification/review and expert witness support services
Flow assurance software to visualise and analyse results – Maestro